Our Children's Ministry offers not only our Sunday Bible Study Ministry and Wednesday Missions and Music Ministry, we also seek to work as a congregation to impact the lives of children in our community by volunteering in schools, supporting mission causes around the world and we strive to provide resources for parents who want to lead their children into a growing faith in Christ. As we consider children, the issues they face, and the realities they must conquer, we believe it is our responsibility to encourage them and to offer them the building blocks that form and inform their faith now and in the future. The safety of participating children is a priority with our First Baptist Family. All paid and volunteer staff receive training annually, and background checks are performed for those teaching and caring for children.
Weekly Wednesday Evening Children's Schedule 
4:00 – 4:30 – Snacks in the Commons
4:30 – 5:00 – Handbells for 2nd-5th graders
5:00 – 6:00 – Music and Missions for PreK (Ages 3-5) and School-Age (K- 5th grade)
6:00 – 7:00 – Intergenerational Fellowship Meal
Join your First on Fifth friends for some summer fun! 
Keep an eye out for more additions to the calendar as the summer progresses!


June 9
 – "Snacks with Mac" for rising kindergartners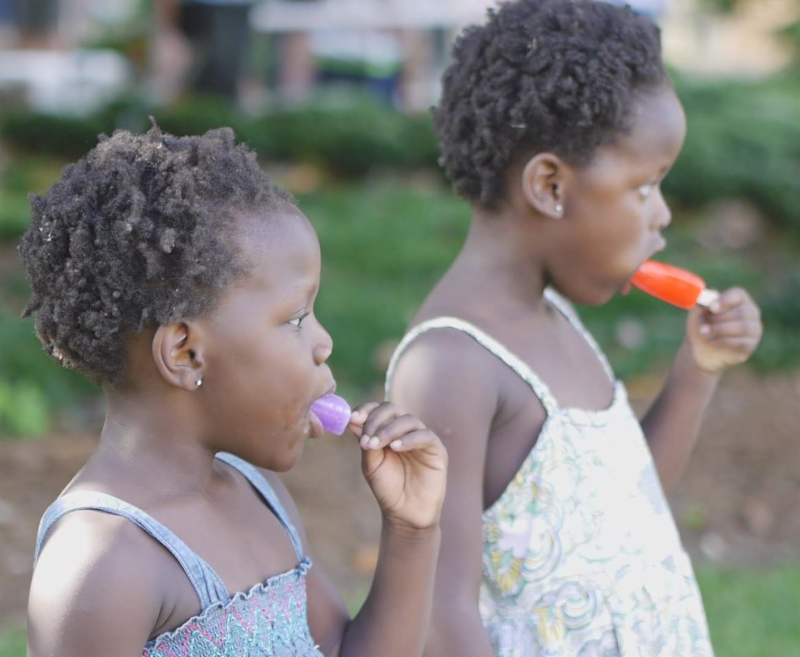 June 23 -Lunch and homebound visitations
June 30 – Mochas with Mac (K-5)
July 16-19 – PASSPORTkids! Camp
July 21 – The Big Chill ice cream event
July 28 – "Snacks with Mac" for rising kindergartners
July 31 – Dinner and homebound visitations
August 3 – Winston-Salem DASH game (children, youth & parents)
August 11 – Mochas with Mac (K-5)
August 18 – "Snacks with Mac" for rising kindergartners
August 25 – Promotion Sunday, Blessing of the backpacks, bible presentations
Contact
Please contact Amy McClure, Associate Pastor for Children, Senior Adults, and Pastoral Care for more information or to register your child.
Ministry Opportunities for Children
Nursery Ministry
Sundays from 9:00 am–12:00 pm We believe faith development begins when a child is born.  We have trained workers in our nursery who provide a safe and welcoming space for even the smallest in our faith community to begin exploring images from the bible, hearing bible stories, and listening to songs of our faith.  Our nursery ministry is birth – 2 years old."
Preschool Mission & Music
5:00-6:00 pm Wednesdays in the Children's Loft (September through May) Preschool Choir (ages 3-PreK) is a non-performing group of young musicians who meet together to learn about the Lord through music. Through singing together and playing instruments, these little friends find their singing voices, internalize rhythm, and praise the Lord together! Mission Friends are preschoolers who meet on Wednesday evenings as well, learning about missionaries in other countries and mission opportunities in our own community, and how to tell others about Jesus.
Music & Missions K-5th
5:00-6:00 pm Wednesdays in the Music Suite Music & Missions (K-5th grade) meet weekly to practice more advanced choral techniques and music fundamentals which will build a foundation for a life of praising God through music in the church. These young singers offer songs in worship from time to time, perform large-scale musicals and take their skills learned in children's choir into their school bands and choruses, and with them throughout their lives.
Children's Handbells (3rd-5th)
4:30-5:00 pm Wednesdays in the Music Suite (September through May) Our children's handbell choir is made up of children in 3rd-5th grades. Learning to play handbells is a tremendously unique opportunity for a team of children. This once-a-week rehearsal helps children solidify rhythm, learn to work as a team, and create beautiful music together as a tool for worship. Timothy Ringers do lead in worship occasionally throughout the year.
Prayer Partners
Our faith community believes in the power of prayer and building relationship with one another. One of our thriving intergenerational opportunities is our Prayer Partner Ministry where our school-age children enrolled in our Young Musicians program are partnered with one of our senior adults each year to enter into a covenant to pray for each other throughout the school-year.  We schedule a few special programs for our Prayer Partners throughout the year that help facilitate relationship building and growing together.
Our new Kidcheck system is fully implemented!  For parents with children, you may have noticed a new check-in system in our children's wing on Sunday morning.  We are thrilled to utilize this great resource as we prepare for a growing children's ministry, as we enhance our safety and security for your children, and as we prepare for upcoming renovations.  Thank you for your patience in creating your individualized accounts!  Please feel free to personalize your account and keep it up-to-date regularly.  We will be using this system as we continue to organize events for your children.  Please contact Amy McClure with any questions.
To create your account and register for events, please click here.